I went to see Birds of Tokyo with Jolly, Matt, Simon, Jim, Dave and Drunk-Girl on Friday night.
Well, I say Drunk-Girl, but I guess Baked-Girl, Stoned-Girl or Bored-Girl would have been better descriptions. I have no idea what she was on. Matt made the mistake of leaving our prime position on the single piece of seating in the Tas Unibar to go and get a drink. His spot was unashamedly taken by Drunk-Girl who summarily fell asleep on Dave's shoulder. When asked if she was ok, she slurringly told us that she was just tired and really bored. At a rock concert. Watching one of the best (and loudest) bands ever to grace the stage at the Unibar. I call shenanigans.
The band rocked and also rolled, as they are wont to do.
At certain points, the singing of the crowd drowned out the band. The vibe was fantastic – the band responded to it as well, they appeared to be having a great time. I guess the fact that this is their second gig in little ol' Hobart in three months says a lot.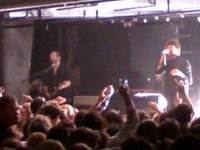 This is the first gig that I've attended carrying good earplugs. These things are well worth the purchase. I paid $30 for a pair of Hearos Hi-Fidelity earplugs, which meant that I was able to hear the concert without sacrificing sound quality too much. The mean attenuation across the frequency spectrum is quite flat. The only disadvantage was that I needed to take them out of my head whenever anyone wanted to talk to me. Including morons offering drugs.
This is the first time I've come across this in Hobart – a guy was wandering about offering people small white pills from a folded up piece of paper in his pocket. We told him to piss off, but I can only assume that he got to Drunk-Girl before he got to us.
At the end of the gig, we offered to call a cab for Drunk-Girl. She said "NO. My ticket was free anyway." Then stormed off.
If you happen to be reading Drunk-Girl (if you can read that is), I wasn't offering to pay for your taxi ride, only to summon it for you. Perhaps next time you should just enjoy the concert rather than getting baked on whatever crap is being handed out.
Next time, sit on someone else's ledge.